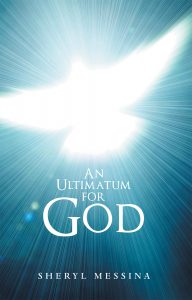 At times it is easy to doubt God's presence—even His very existence. For Sheryl Messina, after watching her father suffer terribly from cancer and die just after selling his business to start enjoying life, her faith in God plummeted. She had grown up being told that God loves everyone and has a grand plan, but this didn't seem like a wonderful plan by a loving God.
In An Ultimatum for God, author Sheryl Messina shares her soul-searching journey from anger and rejection of God to knowing His true existence. After her father's death, Sheryl's weakened faith even further diminishes when graphic, horrific nightmares arrive and then continue for months, each one more frightening and disturbing than the previous one. The unceasing assault of nightmares and her feelings of abandonment led Sheryl to her breaking point, when she screamed out to God to show up—or else she would be done with Him forever.
But God's response was astounding! And by following Sheryl on her journey and exploring your own doubts and faith, you too can discover God's presence in your life and find an appreciation for how His plan is always a plan of love and hope, even when our lives seem lonely and hopeless.